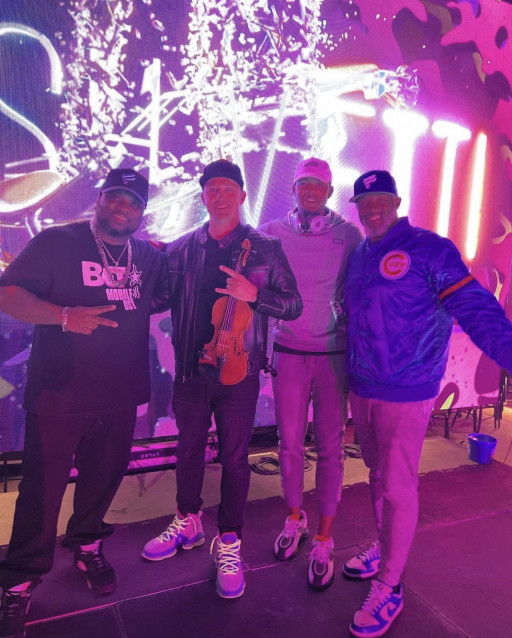 Alaze, Josh Vietti, DJ surplus , Tim mcafee(The International Mcafee Group)
Everyone enjoying photos for the Superluxe weekend.
ATLANTA, April 5, 2023 (Newswire.com) - Alaze has now returned to the music scene with a focus that has all watching for his next move. During The Big Game in Arizona, Alaze performed, showcasing his off the top of the head freestyle; also performing during the same show was Josh Vietti, an international violinist known for touring with iconic artist Curtis 50 Cent Jackson. Alaze's performance was atop The Lifetime in Phoenix's Biltmore Fashion Park. The event, which was sponsored in part by BET Mobile DST, also included Romeo Miller and Mannie Fresh. Also on hand for the event were international brand Rap Snacks, as well as models and fashion directors from around the world.
Alaze has now become the brand ambassador and personality in Atlanta, Georgia for the new vodka Fifty States Vodka and is also supporting other brands. He is also the executive affiliate director for a rap star energy drink introduced by a business friend of many years, RARA.
Alaze will be performing at the 25th Anniversary Concert in ATL on Friday, May 19th at the State Farm Arena. Tickets can now be bought on ticketmaster.com.
Contact Information:
Prince Murray
International Marketing manager
[email protected]
7707565435
Original Source:
Alaze the Original Returns After a Remarkable Performance in Phoenix
The post Alaze the Original Returns After a Remarkable Performance in Phoenix first appeared on The Offspring Session.
Art and Entertainment - The Offspring Session originally published at Art and Entertainment - The Offspring Session