Summer is the perfect time to engage in creative activities with kids.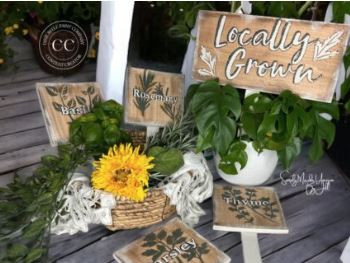 Summer Activities for Kids
Chalk Painted Garden signs with potted plants
PORT RICHEY, Fla., May 30, 2023 (Newswire.com) - Summer is the perfect time to engage in creative activities with kids. What better way to spend quality time together than by unleashing their artistic talents and transforming everyday objects into vibrant masterpieces? One versatile and user-friendly medium that's ideal for summer DIY projects is Chalk Mineral Paint, including the popular options from Dixie Belle Paint. Dixie Belle Paint has released a list of some exciting DIY projects that parents can enjoy with their kids, using Chalk Mineral Paint to add color, flair, and a touch of magic to their creations. Chalk Mineral Paint is a non-toxic, game-changing water-based paint with adhesive qualities that redefines furniture upcycling and DIY projects. Skip the hassle of sanding, priming, and prepping! Plus, it is Made right here in the USA and is a family-owned and operated small business.
Revive Old Furniture:
Give a new lease of life to old and worn-out furniture by applying a fresh coat of Chalk Mineral Paint. Involve children in the process, from choosing the paint colors to prepping and painting the furniture. Whether it's a weathered wooden chair, a tired bedside table, or a worn-out picture frame, Chalk Mineral Paint can instantly transform it into a stunning statement piece.
Customized Planters:
Encourage kids to embrace their green thumbs by transforming ordinary planters into vibrant works of art. Clean and prime the planters, and then let children apply Chalk Mineral Paint in their chosen colors. Children can create patterns, write inspiring quotes, or even paint images of their favorite plants. These personalized planters will add a touch of whimsy to any garden or patio.
Colorful Garden Stones:
Add a pop of color to outdoor spaces with Chalk Mineral Paint-adorned garden stones. Take plain stones, wash them thoroughly, and let them dry. Encourage kids to paint them with various colors and patterns using Chalk Mineral Paint. Once dry, just arrange them along garden pathways or use them to create decorative borders. These hand-painted stones will infuse anyone's garden with a touch of creativity and playfulness.
Inspirational Wall Art:
Create beautiful and uplifting wall art with children using Chalk Mineral Paint. Start with a blank canvas or repurpose an old picture frame with the glass removed. Help children paint a base layer with their favorite Chalk Mineral Paint color, and then let their creativity shine as they add designs, patterns, or inspirational quotes using different colors. Hang these unique masterpieces to brighten up any room.
Decorative Mason Jars:
Mason jars can be transformed into delightful decorative pieces that serve various purposes. Clean the jars thoroughly and let the children paint them using Chalk Mineral Paint. Kids can create fun patterns, and designs, or even paint animals or flowers. Once dry, these painted jars can be used as colorful pen holders, vases for freshly picked flowers, or as decorative lanterns for cozy summer evenings.
Engaging in DIY projects with children not only fosters creativity and imagination but also creates lasting memories. Using Chalk Mineral Paint, such as the options offered by Dixie Belle Paint, adds a unique touch to any summer creation. From reviving old furniture to decorating garden stones and creating customized wall art, there are endless possibilities to explore. So grab a paintbrush, gather the little artists, and embark on a summer filled with colorful and imaginative DIY projects. Let everyone's creativity soar, and enjoy the beautiful results that the family will create together.
Contact Information:
Natalia Noble
Marketing Manager
[email protected]
8139091962
Teri Ronk
Chief Marketing Officer
[email protected]
8139091962
Original Source:
Dixie Belle Paint Releases List of Creative DIY Summer Chalk Mineral Projects That Parents Can Enjoy With Their Kids
The post Dixie Belle Paint Releases List of Creative DIY Summer Chalk Mineral Projects That Parents Can Enjoy With Their Kids first appeared on The Offspring Session.
Art and Entertainment - The Offspring Session originally published at Art and Entertainment - The Offspring Session