Jack-in-the-Box by Mark T. Bacome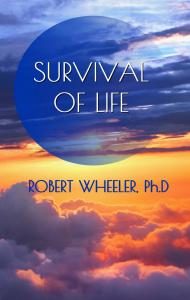 Survival of Life by Robert Wheeler, PhD
Time to curl up with a cup of java and an exciting new book from Explore Authors Magazine list of hot new book releases to read this August
Summer vacation is coming to an end, and now is the perfect time to add great new books to your personal library from Explore Authors Magazine's list of exciting new books to read this month."
— Explore Authors Magazine
NEW YORK, NEW YORK, UNITED STATES, August 18, 2023/EINPresswire.com/ — Chasing the Real Me by Brom Hoban is a stirring coming-of-age tale about a runner with heart, in sports, and in the game of love. Highly recommended. Hejira Books, 979-8218246761, 978-1088232101
In Jack-in-the-Box by Mark T. Bacome, an urban legend, a creepy nursery rhyme, supernatural events, and an abandoned insane asylum are at the crux of an investigation led by a tough detective in this brilliant and creepy, bone-chilling thriller. RedVette Media Productions, 978-0-9852360-7-6, 978-0-9852360-6-9
In Jim Antonini's Wild Bill Rides Again, to escape an unfilled life, a socially awkward middle-aged family man steals one million dollars and goes on an unforgettable joyride in this beautifully written literary novel. 979-8218240554, 979-8218240561
In Suppression by Craig S. Maltby, a professor finds himself embroiled in danger and corporate intrigue and espionage when a pharmaceutical company discovers his groundbreaking medical research in this taut, heart-pounding medical thriller. 9798218207236, 9798218231781
Jolly Roger weaves a thrilling and suspenseful mystery when a body is found wrapped in a Jolly Roger flag, prompting an investigation by a determined detective and the victim's undeterred family and friends in this highly enjoyable suspense by Thomas Leveque. Bishop Publishing, 979-8-9882786-2-7, 979-8-9882786-0-3
Survival of Life by Robert Wheeler, PhD. explores the purpose of life and survival from an ontological perspective in his gripping new philosophy book. OntosScience Press—979-8-218-24096-7
What Lies on the other side of fear? One warning comes to mind: Beware of the Bunnyman, Joel Hayes' exciting and chilling new horror novel, Fair Weather Clouds, 979-8-218-24240-4
Miracle of Body Wisdom by Joseph Lauricella offers an inspirational approach to body wisdom through yoga and other wonderful techniques that help readers cope with feelings of anxiety, guilt, and over-thinking. Wolf Spirit Publishing – 979-8-9882467-0-1, 979-8-9882467-1-8
Moon Over Port Royal is an epic portrayal of the illustrious people of the pirate capital, the Maroon freedom fighters of the hills, and the massive 1692 earthquake that buried "the wickedest city on earth". ISBN: 978-0998977836 and 978-0998977805
Pundemonium! Vol. 4 by James E. Larson is back with more puns, fun, and hilarious "dad jokes" to keep you in stitches. Lefse Press, 979-8-9874392-6-5
In Giving Me Butterflies by Katie Marie , a young teacher rediscovers passion with her mysterious but cranky neighbor in this lovely slice-of-life novel. Midnight Moon Publishing, 979-821818138-3
O'Toole by Florence D'Angelo tells the beautifully written story of an immigrant's quest for independence in 19th century ‎America and a woman torn between the love of two men. Independent Thinking, 979-8985658217
The Best Worst Dog I Ever Had shares the happy and sad times of a young couple (Larry and Iowa Becky) and their five dogs through fifty years, in this heart-warming tear-jerker, by Larry Ehrhorn, 979-8387979545
The gifted sisters are back and in top form, in The Last Triceracorn (Book Two), the thrilling sequel to the wildly popular YA fantasy adventure, The Last Triceracorn (Book One) by Vincent M. Miceli. M4 Publishing, 979-8986324821 and 979-8986324807.
Readers will love the second installment of The Raven Chronicles: Magic Scorned by Anthony Butler, a magical and epic fantasy adventure following a mage and her quest for revenge. KnightMajic Publishing, 979-8-9883348-0-4
Explore the wondrous beauty of butterflies. Wandering Wings by E. Michael Holy covers a twenty-five year period of studying butterfly populations at Rice Creek Field Station in Oswego, New York Rylink Publishing, 979-8-9883286-0-5,
S.M. Robinson's trilogy is complete with the release of Neither Good Nor Evil: Journey to the Truth and Truth Revealed, an epic and fun-tastic fantasy series. The Seaquel Publishing, 978-1088146156, 9798985400137
Carmine Snyder writes a gripping and astute critical academic analysis, in Evangelical Agnosticism, taking both a philosophical and academic approach to its subject matter. Vopper Publishing, 9798218207458
Where Hast Thou Thy Poets Gone? showcases beautifully illustrated poetry in Abram Hollows' lovely poetry book that raises a poignant question to lovers of poetry everywhere. Mac Publishing, 9798218208707
In a tough high interest U.S. economy, readers will learn everything they need to know before financing a new home in Making Mortgage Sense by Ron Culver. An educational must-read. Aisa, LLC 979-8218205904
Two Way Street: An American Success Story by Eric Soda shares his inspiring story and tips on how to run and operate a successful business and how to achieve your dreams in this insightful part-memoir, self-help book.
In Murder by Color, Duke Dupree weaves a searing 1950s crime thriller and murder mystery in the highly compelling and suspenseful novel. 978-1088137208.
In Indemnification by Carroll Dean an honorable and man must find balance between good and evil in this riveting new thriller, Hearts Locke Publishing, 979-8218165314.
COMING SOON:
A young lawyer takes a tough drug case that not only jeopardizes his marriage, but places him in the crosshairs of the CIA and a prosecutor with a dirty secret in Conspiracy of Lies by Richard S. Rachlin, Sawtooth Press, 979-8-9890031-0-5
In The Book of Fate's Desire by Ryan S. Hampton, a powerful sorcerer-king discovers a magical book, one that talks and will help his people prepare for the upcoming war in this epic fantasy adventure. Milham Books, 979-8-9885528-0-2
In I Love You, And All the Other Lies In Between by Sarah Miller, a young woman goes on a road trip to escape a difficult past in this wonderfully written literary novel. Bergantino Publishing, 979-8-9886541-0-0
The Prince of Wolves leads the battle for dominance in a timeless war of werewolves vs Vampires, that must finally come to an end, in Dorian P. Belasko's thrilling new fantasy novel, The Monster Within.
The Pathway to Peace: A 365 Day Devotional by Cara Poe, begins with the Prince of Peace as the author navigates the reader through life's goodness and trials, joy and grief to peace. Poehouse Publishing, 979-8-218-26022-4
Thoughts: Reflections on God, Life, and Living by Reverend O.L. Johnson explains the practical application of the Word in addressing every day problems in this wonderful inspirational book. OL Johnson, 979-8-9888631-0-6
Ryann Van Tine explores the repercussions of a consumer driven society and the manipulative power of distraction employed as a marketing strategy in this riveting and observational self-help pocketbook.
EAM Recommends
Explore Authors Magazine
email us here
Originally published at https://www.einpresswire.com/article/650675102/explore-authors-magazine-releases-its-list-of-hot-new-books-to-read-this-august
The post Explore Authors Magazine releases its list of hot new books to read this August first appeared on The Offspring Session.
Art and Entertainment - The Offspring Session originally published at Art and Entertainment - The Offspring Session