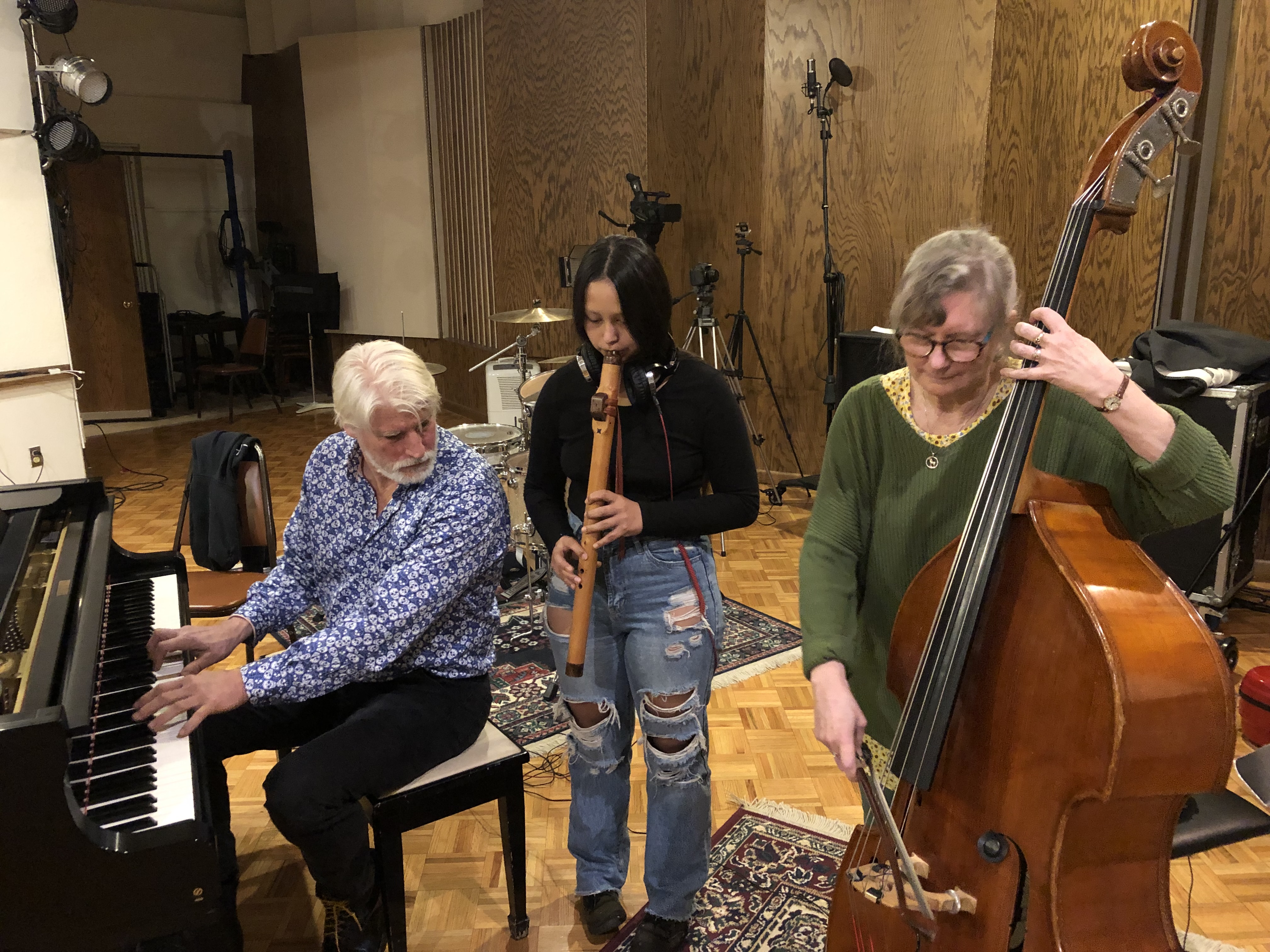 HHSE C.E.O. Eric Parkinson directs flutist Gaby Nagel and String Bass player Carol Widder on the ADAYGAYUDI song from the upcoming WILDFIRE movie.
Independent Film Distributor Hannover House, Inc. has dramatically improved the company's financial health through the reduction of millions in prior debt.
Hannover House, Inc. (OTCMKTS:HHSE)
Through the support of new lenders, the company has been able to make significant progress in the creation of valuable assets, the preparation of MyFlix service and the reduction of our debt burden."
— Eric Parkinson, HHSE C.E.O.
FAYETTEVILLE, AR, UNITED STATES, September 1, 2023/EINPresswire.com/ — Over the past forty-four months, Hannover House, Inc., (OTC: HHSE) has reduced its total debt load from $6.4-million down to $2.7-million as the company prepares for the launch of its new business plan of the MyFlix streaming and to facilitate the production of high-profile feature films.
The debt reductions were the result of payments and negotiated reductions, primarily from "default judgments" incurred in 2016 – 2018 under a flawed- legal strategy pursued at that time by company management. Out of state actions filed by producers were ignored and allowed to go to default under the belief that the contract requirement for disputes to be filed in Arkansas would negate the foreign state defaults. This strategy – devised by former HHSE President and attorney Fred Shefte – ultimately proved flawed, and resulted in the company being burdened with millions of dollars in out-of-state defaults, all from cases lacking the factual basis for such claims.
Shefte took a medical leave of absence from the company in the summer of 2018, and never fully recovered or returned to Hannover House until his formal resignation in 2021 and his unfortunate death in April of 2022. The company has had no new lawsuits in over four years as the business model of handling theatrical and video release of third-party-owned productions was discontinued.
"The rapid collapse of the DVD market caught many distributors by surprise," said Hannover CEO Eric Parkinson. "As Video-On-Demand options exploded in popularity, the consumer willingness to spend five or ten dollars to buy a DVD of an independent movie collapsed. DVD's were no longer a good entertainment option, when the same ten dollars could buy a whole month of access to various streaming sites. However, some of the program suppliers to Hannover House filed lawsuits seeking payment for DVD's that were shipped to retailers, but returned unsold for credit. The Hannover agreements were clear in that royalties only applied to net unit sales, not gross shipments. So, these various lawsuits were without contractual merit. Yet, failing to file a response for dismissal – even when the cases were filed in the wrong venue – created a painful debt burden for the company to carry default judgment balances which could have been avoided. We are grateful for the support of the company creditors and judgment holders in structuring fair and reasonable resolutions to these matters, and enabling our balance sheet to be markedly improved," Parkinson concluded.
During the past 44-months, the company secured $763,910 in new debt, of which approximately $261,937 was reinvested into film productions, including WILDFIRE and THE LAST DAYS OF BELLE STARR. These production investments are readily recoupable to Hannover House from contractual sales deliveries.
"Through the support of new lenders, the company has been able to make significant progress in the creation of valuable assets, the preparation of MyFlix service and the reduction of our debt burden," said Parkinson. "Their support and confidence will soon be rewarded."
Hannover House was founded in 1993 and has survived through tumultuous market changes impacting the independent film industry, by controlling overhead, anticipating trends and evolving to address opportunities as they arise.
ERIC PARKINSON
Hannover House / MyFlix
+ +1 818-481-5277
email us here
Visit us on social media:
Twitter
Instagram


Originally published at https://www.einpresswire.com/article/653314064/hannover-house-reduces-debt-by-more-than-57-in-preparation-for-new-business-plan-activities
The post Hannover House Reduces Debt by more than 57% in Preparation for New Business Plan Activities first appeared on The Offspring Session.
Art and Entertainment - The Offspring Session originally published at Art and Entertainment - The Offspring Session