Mona empowers businesses to leverage the full potential of generative AI through advanced, granular monitoring capabilities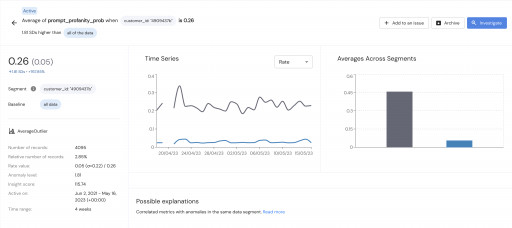 Mona's Generative AI Monitoring
Mona automatically detects issues such as profanity use within prompts.
ATLANTA, May 25, 2023 (Newswire.com) - Mona, the leading AI monitoring company, today announces the launch of its generative AI monitoring solution, providing complete visibility for prompt engineering, large language models, GPT, and other generative AI projects.
To ensure safe and effective use of generative AI approaches, avoid operational risks and ultimately gain the trust of business customers, it is critical to implement effective monitoring. Mona's monitoring solution offers a range of benefits helping generative AI teams ensure the optimal performance and reliability of their generative AI. Key features include:
Optimize API Usage: Track generative AI functionality and performance. Find opportunities to reduce resource usage and optimize your API calls with advanced, granular tracking and automatic improvement suggestions.
Mitigate Risks: Get alerted on behavior outliers, drifts and sudden changes. Avoid problems caused due to model "hallucinations." Unsure of what can go wrong? Mona knows exactly what to look for.
Easy Integration: Just wrap your API calls with our client, and monitoring is set up automatically.
"Our platform has always focused on product-oriented AI and AI-based processes, as opposed to just monitoring the models," said Itai Bar-Sinai, Chief Product Officer and Co-founder at Mona. "Mona is perfectly tailored to accommodate the industry's shift towards using generative AI."
Mona is ideal for teams that host their own LLMs or call on models built by others via API, enabling monitoring for any large language model and any image generation tool. For more information, please visit: https://www.monalabs.io/generative-ai.
About Mona
Mona is a monitoring platform for AI in production. The intelligent monitoring solution helps organizations increase trust in their AI system by giving them an analytical engine that can detect issues weeks or longer before they come to the surface, and by that to help avoid AI catastrophes. The company's highly configurable platform provides teams with tailored, real-time insights to monitor and investigate performance issues, proactively alerting them regarding model behavior anomalies and data integrity issues. Founded in 2018 by product leaders and operators from Google and McKinsey & Co., the company is backed by top VCs, with offices in Tel Aviv and Atlanta. Learn more by visiting http://www.monalabs.io.
Contact Information:
Diane Vo
Marketing Lead
[email protected]
(408) 429-3549
Original Source:
Mona Introduces Industry's First Generative AI Monitoring Solution
The post Mona Introduces Industry's First Generative AI Monitoring Solution first appeared on The Offspring Session.
Art and Entertainment - The Offspring Session originally published at Art and Entertainment - The Offspring Session