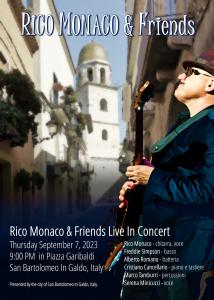 Rico Monaco Live in San Bartolomeo In Galdo, Italy 09-07-23
Rico Monaco Shows
NUOVO SINGOLO pubblicato il 1 settembre 2023, RENAISSANCE LATINO. 
https://orcd.co/rmb-renaissancelatino
Rico Monaco si esibirà dal vivo a, Italia
NUOVO SINGOLO pubblicato il 1 settembre 2023, RENAISSANCE LATINO.Rico Monaco si esibirà dal vivo a San Bartolomeo In Galdo, Italia, date del tour 2023 Cabo San Lucas, Messico, festival FL, CT, NY
"
— Fran Peters
ORLANDO, FLORIDA, UNITED STATES OF AMERICA, September 1, 2023/EINPresswire.com/ — NUOVO SINGOLO pubblicato il 1 settembre 2023, RENAISSANCE LATINO. 
https://orcd.co/rmb-renaissancelatino

Rico Monaco si esibirà dal vivo a San Bartolomeo In Galdo, Italia, date del tour 2023 Festa di compleanno di Sammy Hagar a Cabo San Lucas, Messico, festival FL, CT, NY


Rico Monaco è onorato di essere artista principale dell '"ultimo concerto dell'estate" il 7 settembre 2023 nella città natale dei suoi nonni, San Bartolomeo In Galdo, In Italia, in Piazza Garibaldi con un gruppo tutto italiano di musicisti professionisti di prim'ordine. BACKSTORY: Suo nonno, il cantante lirico Giuseppe Monaco, emigrò negli Stati Uniti all'inizio del 1900 dopo aver prestato servizio nell'esercito italiano in Africa come trombettiere. Durante la prima guerra mondiale prestò servizio nell'esercito americano anche come trombettiere, ma sfortunatamente ricevette una dose di gas mostarda in Francia. Dopo essere tornato a New York, stabilendosi nel Bronx, si è esibito al Metropolitan Opera House di New York e ha cantato nel coro dietro al famoso Enrico Caruso. È stato tenore principale in molte produzioni della città, ma ha finito per vivere gli ultimi 25 anni della sua vita in un Veterans Hospital di New York e non è stato in grado di continuare a perseguire la sua carriera. Ciò aggiunge molta importanza personale a questo spettacolo per Rico e dovrebbe aprire l'Italia/Europa a più spettacoli nei prossimi anni.
Un film documentario sullo spettacolo e sul viaggio di Rico in Italia uscirà nei prossimi mesi!


Nuovo singolo in uscita il 1 settembre 2023: Renaissance Latino, questa canzone è scritta in italiano e un po' di inglese. questa è una classica fusione stilizzata RMB di musica rock e latina che parlerà dell'essere un musicista di origine italo-latina in questo mondo musicale in continua evoluzione. RMB ha pubblicato 4 singoli originali nell'ultimo anno, disponibili su tutte le piattaforme musicali. Magnifico, Gotta Keep Moving, I Want To Love You, & I'm A Fan. Le registrazioni hanno vinto premi come Canzone dell'anno-Tell Me, Band dell'anno 8 volte a Orlando, Musicista dell'anno a Orlando, battaglia nazionale delle band vincitrice dell'Hard Rock Cafe/Cabo Wabo Tequila nel 2002 e molti altri. da allora.
La Rico Monaco Band è una fusione di musica rock e latina. Si sono esibiti ottenendo recensioni entusiastiche in tutto il mondo, hanno vinto numerosi premi per i loro album e le canzoni originali, il canale YouTube di RMB ha avuto oltre 2 milioni di visualizzazioni, sono apparsi in programmi TV mattutini, sono stati gli show principali in festival/concerti e hanno aperto numerosi concerti nazionali. agisce in alcuni dei migliori locali. L'esposizione di Rico alla musica e alla cultura jazz, fusion, latina e caraibica ha fortemente influenzato la sua musica. Ciò lo ha portato a lavorare con Tito Puente Jr. e a creare una miscela unica di rock americano e musica latina ad alto potenziale. Rico Monaco è un artista/cantautore, chitarrista, produttore e leader di una band riconosciuto a livello internazionale..

Spettacoli: 7 Settembre: Piazza Garibaldi, San Bartolomeo In Galdo, Italy 

Ottobre 10 & 12: Sammy Hagar's Birthday Bash, Cabo Wabo Cantina, Mexico 

Ottobre 12: Amigos De Los Ninos Charity Benefit Cerritos MX 

Ottobre 21: Fiesta De Mi Gente in Mt Dora, FL 

Novembre 2: Fredsters in Maitland FL
Novembre 18: Lake Nona Jazz Festival, Lake Nona, FL

Dicembre 7: Bijou Theater, Bridgeport CT

Dicrembre 8: Glen Cove Long Island NY at My Father's Place

Collegamenti: www.ricomonaco.com

www.youtube.com/ricomonacoband

www.facebook.com/ricomonacoband 


Contatto: Ricmon Productions LLC

Telefono: 407 619-3773 

E-mail: [email protected]
Enrico Monaco
Ricmon Productions LLC
+1 407-619-3773
email us here
Visit us on social media:
Facebook
Twitter
LinkedIn
Instagram
YouTube
TikTok
Renaissance Latino by Rico Monaco Band


Originally published at https://www.einpresswire.com/article/653130867/nuovo-singolo-pubblicato-il-1-settembre-2023-renaissance-latino-rico-monaco-si-esibir-dal-vivo-a-campania-italia
The post NUOVO SINGOLO pubblicato il 1 settembre 2023, RENAISSANCE LATINO. 
Rico Monaco si esibirà dal vivo a Campania, Italia first appeared on The Offspring Session.
Art and Entertainment - The Offspring Session originally published at Art and Entertainment - The Offspring Session