Jaswant Shrestha and (Festival Director), Spomenka Saraga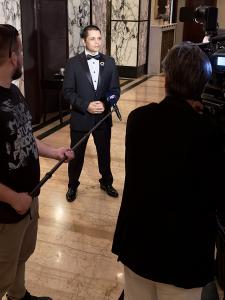 with Croatia's National Television HRT
Portugal's Hidden Gems: On A Quest with Jaswant: Portugal's Lisbon Premiered and won Best Independent Documentary Award
On A Quest: with Jaswant is an outstanding work that stood out among 91 finalists from 38 countries, making it the Best Independent Documentary Film Winner.""
— Spomenka Saraga, Director – Zagreb Tourfilm Festival
HOLLYWOOD, LOS ANGELES, CALIFORNIA, USA, October 7, 2023 /EINPresswire.com/ — Creative Heights Entertainment is proud to announce that "On A Quest with Jaswant – Exploring Portugal," a captivating travel/exploration series created by Emmy Award-winning documentarian Jaswant Dev Shrestha has won Best Independent Documentary Film Award. The prestigious 12th Annual Zagreb Tourism Film Festival was held in Zagreb, Croatia spanning four days of festivities from October 4 to 7, 2023. Over 200 films from 38 countries participated in the competition. The series is Executive Produced by Carlos Sargedas, Original Music Composed by Andre Barros, Hosted, Written and Directed by Jaswant Dev Shrestha.
The 12th Zagreb TourFilm Festival celebrates outstanding contributions to the fields of tourism, travel, and documentary filmmaking. Held in the city of Zagreb, the festival provided a unique platform for filmmakers and Tourism representatives from participating countries to showcase and promote their culture and countries. The jury comprises members from the United States, Germany, Italy, Bosnia-Herzegovina, Croatia, the Czech Republic, and Ukraine.
The Festival is Supported by: Zoran Milanović, the President of the Republic of Croatia, the Ministry of Tourism and Sport of the Republic of Croatia, the Croatian National Tourism Board, and the Zagreb City Tourism Board.
"On A Quest with Jaswant" (Season 1) is a travel series that takes viewers on a journey through the eyes of Emmy Award-winning documentarian Jaswant Dev Shrestha. In each episode, he embarks on a quest to explore Portuguese cities, small towns, and remote villages to learn and document untold stories, history, hidden wonders, arts, culture, food, people, and places.
Previously the Series has already bagged the "Best Travel Series" award at the International Tourism Film Festival of Turkey, where 350 films from 35 countries were in the competition.
More info: www.imdb.com/title/tt27794811
Mark Fukae
Creative Heights Entertainment
[email protected]
Originally published at https://www.einpresswire.com/article/659823715/on-a-quest-with-jaswant-portugal-s-lisbon-wins-best-independent-documentary-award-in-zagreb-tourism-film-festival
The post On A Quest with Jaswant: Portugal's Lisbon wins Best Independent Documentary Award in Zagreb Tourism Film Festival first appeared on The Offspring Session.
Art and Entertainment - The Offspring Session originally published at Art and Entertainment - The Offspring Session