SOHO International Film Festival Logo
The Nana Project Stills. Courtesy of The Nana Project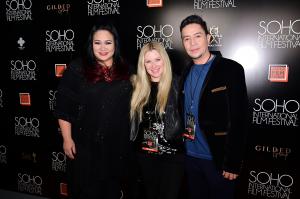 Sibyl Reymundo-Santiago, Cady McClain, Jorge Ballos. Photo by Champion Hamilton
The SOHO International Film Festival unveils an eclectic lineup of innovative filmmakers.
We hope the carefully curated program inspires both fascination and reflection. We hope to spark thought provoking dialogue as audiences encounter diverse perspectives through a wide range of films."
— Sibyl Reymundo-Santiago
NEW YORK CITY, NEW YORK, UNITED STATES, September 1, 2023/EINPresswire.com/ — In two weeks, the SOHO International Film Festival (SIFFNYC) presented by the SOHO Film Forum will welcome audiences to the historic Village East by Angelika in the former Yiddish Theatre District. From September 14th to September 21st, audiences will watch a diverse and remarkable range of over 120 films.
Opening night will feature "The Nana Project", Robin Givens' mockumentary starring Academy Award winner Mercedes Ruehl, Nolan Gould, and Will Peltz. The film, produced by Anthony Del Negro and 13-time Tony Award winner Carl Moellenberg, follows a documentary crew interested in fiery chess master Helen 'Nana' Lewis. As Nana trains for the State Chess Championship, she also works on her real goal of reuniting her estranged grandsons. "The Nana Project", premiering on September 14th, is a film filled with both love and laughter, the quintessential family comedy.
Special programs on the lineup include a screening of films and a panel presented by the New York Women in Film & Television (NYWIFT). The first shorts program is the world premiere of short films featuring Juilliard Drama Division actors from the classes of 2022 and 2023, produced as part of Juilliard's new initiative to provide students with practical experience working on camera. There will be a live Q&A panel following the screening.
SIFFNYC also highlights local filmmakers, such as the World Premiere of New York based director Jon Delgado's Brooklyn centric film. "Queen of Knives", shot completely in Brooklyn, is the story of a modern eccentric family of two generations scattered across the borough. The story follows the Benetto family as relationships shift and generations attempt to adapt to a new world.
Northeast Premieres include "Little Brother", a gripping drama about two estranged brothers on a 1,400 mile road trip for a family intervention. The film stars J.K. Simmons, Polly Draper, Natsuko Ohama, Daniel Diemer, and Philip Ettinger.
New York Premieres include Vivian Kerr's "Scrap", starring Kerr, Anthony Rapp, and Lana Parrilla. "Scrap" was a SIFFNYC selection in 2019 as a short film, and has returned this year as a feature film.
The festival is delighted to screen international selections such as Bobby Barbacioru's "A Frame of Mind" (Romania), a psychological thriller where things are not what they seem. Antonella Spirito's "The House That Stood" (Italy) features a teenage boy in 1943 Southern Italy yearning for his crush while retreating German soldiers operate out of his family's inn. Apollo Bakopoulos' "Aligned" (Greece) intimately explores self-discovery, love, desire, and pain against a backdrop of exquisite music, dance, and photography. Jihane El Bahhar's "Triple A" (Morocco) centers around three couples which all serve a vital need: a functional organ. On the final day, Ma'an L. Asuncion-Dagñalan's "Blue Room" will be presented. A series of unfortunate events leads a band of sheltered teenagers that preach wokeness to the Blue Room, a VIP detention area where they must choose between their privilege or beliefs. These films are in the World Feature Film category.
"Passing Through" follows Mike, a deeply depressed frontline worker, as he sets out on a cross country journey to rediscover himself and what he has lost. The film stars Kevin Daniels, Mike Doyle and Academy Award winner Amy Ryan.
The second week kicks off with films including the documentary "Birthing Justice". The documentary is directed by NAACP nominated Monique N. Matthews, and features Allyson Felix, the most decorated U.S athlete in track and field. Going behind the statistics, "Birthing Justice" places Black women at the center of the fight to fix a broken system for all women in this country.
In Body Electric, director Nick Demos examines body image in the LGBTQ+ community. Demos shares both his own journey with dysmorphia and inspiring stories from others. Body Electric is eye opening and thought provoking, exploring queer culture and history, as well as self-acceptance.
"We hope the carefully curated program inspires both fascination and reflection," said Sibyl Reymundo-Santiago, Executive Director and Head of Programming. "We hope to spark thought-provoking dialogue as audiences encounter diverse perspectives through a wide range of films."
SIFFNYC is presented by the SOHO Film Forum, a 501(c)(3) organization. Founded in 2009 by Jorge Ballos, SIFFNYC continues to celebrate cutting-edge digital technology while honoring traditional forms of storytelling by encouraging new and seasoned filmmakers from New York City and worldwide to create and send in their fresh and innovative cinematic pieces.
For sponsorship inquiries, contact: [email protected].
For more information on the festival, visit www.sohofilmfest.com or contact

[email protected]
**Press Contact:**

Communications, SOHO International Film Festival

Email: [email protected]
Kyra Ching
SOHO International Film Festival
[email protected]
Visit us on social media:
Facebook
Twitter
Instagram
YouTube
TikTok


Originally published at https://www.einpresswire.com/article/653174099/robin-givens-the-nana-project-starring-mercedes-ruehl-nolan-gould-will-peltz-to-open-soho-int-l-film-festival
The post Robin Givens' 'The Nana Project' Starring Mercedes Ruehl, Nolan Gould & Will Peltz to Open SOHO Int'l Film Festival first appeared on The Offspring Session.
Art and Entertainment - The Offspring Session originally published at Art and Entertainment - The Offspring Session