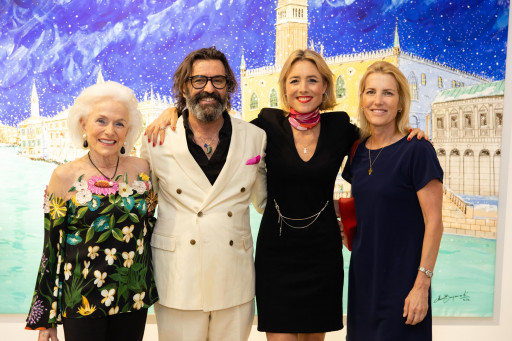 Gay Hart Gaines with artist Mauro Bergonzoli, Countess Franziska Fugger and Laura Ingraham
The artist with his muse and guests at Evey Fine Art Palm Beach in front of his masterpiece \"Snow in Venice\"
PALM BEACH, Fla. - November 30, 2022 - (
Newswire.com
)
The first U.S. solo exhibition of genre-defying Italian artist Mauro Bergonzoli opened Saturday, Nov. 26, at Evey Fine Art in Palm Beach where distinguished guests celebrated one of Europe's most treasured painters alongside philanthropist Gay Hart Gaines and TV host Laura Ingraham. 
Co-hosting the event alongside gallery owners Carla Berenice and Joseph Knapek was Countess Franziska Fugger von Babenhausen, muse and manager of the artist. Also among the guests attending the opening event was Women of Distinction honoree Hillie Mahoney, best-selling author Ann Coulter with partner Paul Reardon, Prince Hubertus and Princess Alexandra Fugger von Babenhausen, Countess Yelitza Karolyi, publisher Alexandra Kauka and Sterling Morton Hamill, BUNTE magazine's society editor (Germany) Oliver Fritz and art curator and columnist Mon Muellerschoen (Hubert Burda Media).
The solo exhibition of celebrated Italian artist Mauro Bergonzoli will be on display at Evey Fine Art from Nov. 26 through Dec. 16, 2022. The exhibition focuses on works that have recently been displayed at the Museum Schaezlerpalais in Augsburg, Germany, including Bergonzoli's famous Venetian cityscapes and water lily series.
The light-filled Evey Gallery space in the heart of Palm Beach will showcase Bergonzoli's most celebrated themes and his impressively scaled canvases will immerse visitors in exuberant, saturated colors and transport them to enchanted places — Venice as a symbol of the beauty that humanity can create at its finest. His large-scale water lilies, in which he continues Claude Monet's late oeuvre, act as painted luminous windows into clean garden oases. The artist's signature Neo-Pop style references baroque and rococo culture with all its pomp and joy of representation, creating reflections of powerful colorfulness and diversity. With his iconic trademarks — the blue Bergonzoli eye and his famous character "The Magic Bunny" — he observes the world from within his paintings and adds skillful strokes of irony.
The Italian artist Mauro Bergonzoli (b. Dec. 24, 1965 in Milan) is best known for his Neo-Pop style and genre-defying modern interpretation of classic draftsmanship. Bergonzoli began his art journey at a very young age, mastering the art of precision and drawing while working the machines in his father's engraving studio. He began selling his comics and artwork while attending art school in Italy. Successful gallery and museum exhibitions followed — in Portofino, Buenos Aires, Montevideo, Hong Kong, Milan, St. Moritz, Miami, Munich, Hamburg, Cologne, Berlin, Bologna, Ravenna, Augsburg, and Venice. 
Contact Information:
Carla Groh
Art Gallery Owner
[email protected]
7737033480
Press Release Service by
Newswire.com
Original Source:
Italian Artist Mauro Bergonzoli Solo Show Opens at Evey Fine Art in Palm Beach
Media - Trend Magazine originally published at Media - Trend Magazine