Super Mom Gives Advice for Choosing the Perfect Presents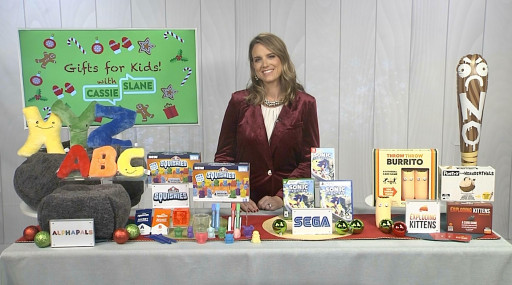 Great Gift Ideas from Super Mom and Tech Expert Cassie Slane
Gifts that kids will love!
ATLANTA - December 15, 2022 - (
Newswire.com
)
Christmas and Hanukkah are right around the corner, and many popular toys are already selling out. Many parents will need to get creative. Fortunately, super mom and tech expert Cassie Slane offers great ideas that will bring smiles to kids of all ages. Slane is a tech expert and consumer products expert with over 15 years of experience in broadcast journalism.
EDUCATIONAL & FUN GIFT IDEA
Give the gift of learning this holiday season with Alphapals. Designed to spark imagination, learning and play, each Alphapals Set consists of 26 plush, buttery soft, smiling letters that conveniently slip away into a comfy bean bag that can be used as a seat for tidy storage. Each set comes in four colors: vibrant rainbow, creamy cream, light grey and dark grey. These aesthetically pleasing products help children learn colors, the alphabet, practice spelling, and best of all, pick up after themselves when they are finished. For more information, visit alphapals.com
A GIFT THAT KEEPS ON GIVING
Cassie's family loves to play games, and the team at Exploding Kittens has three best-selling games for players ages 7 and up that are perfect gifts for $25 or less. Grab Exploding Kittens, Throw Throw Burrito, and Poetry for Neanderthals at Target, Walmart, and ExplodingKittens.com. The title game, Exploding Kittens, is a strategic kitty-powered version of Russian Roulette where players avoid drawing the exploding kitten. Next, Throw Throw Burrito is the world's first dodgeball card game. Finally, Poetry for Neanderthals is a single-syllable word-guessing game.
HOT GIFTS FOR GAMERS
Get ready to experience Sonic like never before with Sonic Frontiers. This new high-speed, action-adventure platform is perfect for Sonic fans and all gamers. The new open-zone platforming features exhilarating combat and intriguing puzzles. Sonic Frontiers is the evolution of Sonic, and is available now for $59.99 on Nintendo Switch, PlayStation 4, PlayStation 5, Xbox Series X and S, Xbox One, and PC. In the new game, Sonic journeys to a mysterious land in search of the Chaos Emeralds, battling powerful enemies while exploring a world of action, adventure and mystery. For more information, visit frontiers.sonicthehedgehog.com.
HANDS-ON CREATIVITY
Kids love using their imagination to create. Elmer's, the #1 glue brand for crafts in school and at home, recently launched Elmer's Squishies. Safe, non-toxic and easy to make, Elmer's Squishies are the perfect gift for kids ages 6 and up to channel their creativity. By mixing Elmer's Secret Solution™ plus color or sparkle add-ins, kids can create their own stretchy, bouncy, and adorable mystery characters in 60 minutes. There are 80 mystery characters, including 12 rare animals like owls and unicorns, and of course dogs, making each one a collectible surprise. For more information, visit www.elmers.com.
Contact Information:
R E
[email protected]
Press Release Service by
Newswire.com
Original Source:
Tech Expert Cassie Slane Shares Hot Holiday Gifts for Kids on TipsOnTV
Media - Trend Magazine originally published at Media - Trend Magazine