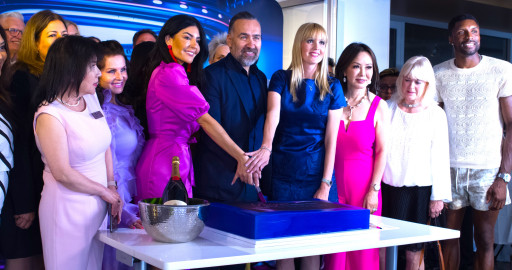 HC Philippe Ziade, Nora Abou Chakra & Dijana Mitrovic Celebrate VMD Launch
Vegas Meets Dubai cake-cutting at the Inaugural Ceremony
LAS VEGAS, June 2, 2023 (Newswire.com) - Vegas Meets Dubai (VMD), an initiative to span the distance between two remarkably similar cities, kicked off last Monday at the International Innovation Center in downtown Las Vegas. The event was organized by VIP Minds, a local company that detects, investigates, and explains corporate excellence.
VMD is the first installment of a broader program that aims to connect Las Vegas with the great cities of the world and, by doing so, offers a portal for businesses on both ends to broaden their reach and explore and tap into new markets.
VIP Minds CEO Nora Abou Chakra summarized the event. "We are overwhelmed by the interest VMD sparked amongst investors and potential partners. Comments were unanimously positive and strengthen our conviction that Las Vegas is ready, even anxious, to go global."
The VMD inaugural ceremony was attended by dignitaries, business leaders, and representatives from academia. Senators Jacky Rosen and Catherine Cortez Masto, Congresspersons Steven Horsford, Dina Titus, and Susie Lee were represented by members of their staff. Las Vegas Councilwoman Victoria Seaman and Chief of Staff to the Nevada Lieutenant Governor Rudy Pamintuan were also present as was Director Martin Herbst of the Nevada Office of the International Trade Administration and Deputy Information Technology Director of the City of Las Vegas Chris Craig.
VIP Minds, along with the Honorary Consulate of Lebanon in Nevada and DM Global Consulting, received Certificates of Special Congressional Recognition from Senator Jacky Rosen, Congressman Steven Horsford, Congresswoman Susie Lee, Congresswoman Dina Titus, and Nevada Lieutenant Governor Stavros Anthony, whilst they also received a Certificate of Recognition from the City of Las Vegas Office Councilwoman Victoria Seaman.
"Vegas Meets Dubai wants to bring two worlds closer together and build a bridge between such dynamic and forward-looking cities. It is a crucial and major step towards an exchange of mutual understanding — and just as importantly, the promotion of tourism and business," says Dijana Mitrovic of DM Global Consulting, who also presides the Strategic European American League and has been selected to be the leading strategic partner at VMD, where she led the proceedings during which VMD unveiled six new strategic partnerships with prominent businesswomen, including University of Nevada adjunct-professor Dr. Kate Zhong, Dr. Ati Hakimi MD, Mijung Lombardi (Vice-President of G Bank), Sandra Rentas of the Nevada Small Business Development Center, Isabelle Karamooz (founder French Quarter Magazine), and Anna Billings (of designer boutique Anne Fontaine).
The VMD initiative enjoys the support of local business tycoon Philippe Ziade who founded no less than 64 companies since his graduation from the University of Nevada with a dual degree in Mechanical and Civil Engineering. Ziade is also Honorary Consul of Lebanon, the country of his birth, for the State of Nevada and patron of VMD.
Early last week, Vegas Meets Dubai announced its presence in the metaverse, a multimillion-dollar development in progress, adding a new dimension to the initiative. Visitors can peruse and savor the full Vegas and Dubai experiences in a feature-rich, lifelike, and futuristic environment.
In his opening remarks Ziade explained that Dubai was chosen as a first stop in the Vegas Meets-series, which includes Vegas Meets Milano, Beirut, Tulum, Beijing, Monaco, St Tropez, Tokyo, KSA, and Qatar, "because of the many similarities between the two cities — both arose out of the lifeless desert floor to become major centers of commerce, finance, and entertainment. Both also share the boomtown can-do attitude, boundless optimism, a forward-looking mindset, and a determination to succeed no matter what. We thought it was high time to introduce the two."
Contact Information:
Stephanie Khalil
Executive Assistant to CEO
[email protected]
702-779-9118
Original Source:
Vegas Goes Global: Vegas Meets Dubai Inaugural Ceremony Attracts Big Names and Sparks Interest of Investors
The post Vegas Goes Global: Vegas Meets Dubai Inaugural Ceremony Attracts Big Names and Sparks Interest of Investors first appeared on TREND MAG.
Media - TREND MAG originally published at Media - TREND MAG