The "God's Got This" Necklace Has Become a Symbol of Comfort and Peace During Difficult Times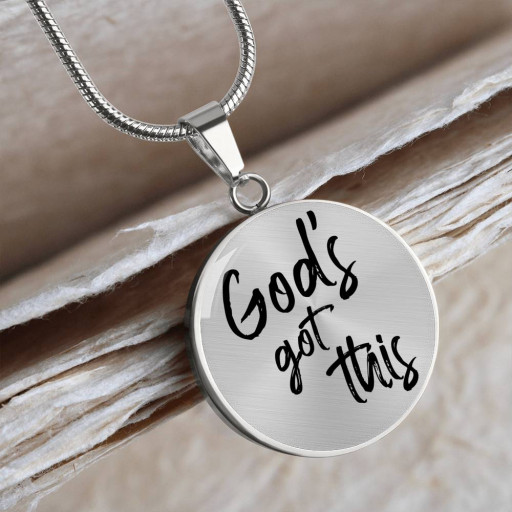 God's Got This Stainless Steel Necklace
The \"God's Got This\" necklace has become a symbol of peace, comfort and strength to all who wear it.
BRADENTON, Fla., March 10, 2023 (Newswire.com) - Joy & Country is proud to offer its own unique version of the "God's Got This" necklace as a symbol of hope, peace, and comfort. Worn by the recipient or given as a gift, its simple yet powerful message penetrates the heart and reminds all who wear it that someone greater than themselves is watching over them and involved in their personal lives.
This beautiful necklace is handcrafted with high-quality surgical steel in a choice of stainless steel or 18k gold finish. The necklace's face is available in a silver or black background or a military dog tag-style, and it comes with a complimentary gift box and optional engraving.
Joy & Country Founder Jenna Scaglione says this necklace is one of their most-loved items, in addition to all other merchandise that includes the saying, "God's Got This."
Jenna states, "The message 'God's got this' is comforting and powerful, especially during uncertain times, as it helps people relinquish their worry to a loving God whose presence brings solace and strength.
"Our customers love the necklace for its high-quality finish and materials, and often tell us they consider it a work of art. When they get it home, they are even more pleased as they say its superb quality and beauty outshines the images!"
While customers love buying the necklace to inspire and remind them of God's love and peace, they also gift it to their loved ones to help them through difficult times.
During a recent challenging time with her daughter's hospitalization, the co-anchor of the NBC News morning show Today Hoda Kotb was grateful to receive a "God's Got This" necklace from her friend who loved it so much it was already worn out when she gave it to her. The necklace reminded Hoda to be grateful, and offered her comfort and support.
About Joy & Country
Joy & Country exists to inspire, bring hope and faith, and make the world a better place, one tee and necklace at a time. The faith-based, family-run company offers apparel, jewelry, and gifts focused on faith, family, and freedom, and hopes to spread a little joy with every hope-inspired creation.
Contact Information:
Jenna Scaglione
Owner, Joy & Country
[email protected]
Original Source:
Joy & Country Releases Unique Version of Simple, Yet Powerful Necklace
Lifestyle - RSV News originally published at Lifestyle - RSV News