Offical prayer times for Dubai and all United Arab Emirates updated in real time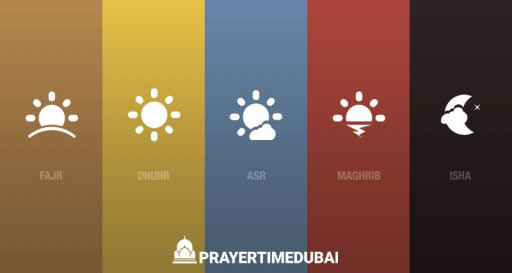 Prayer Time Dubai
Prayers Time United Arab Emirates
DUBAI, Arab Emirates - January 4, 2023 - (
Newswire.com
)
PrayerTimeDubai.AE announces the release of its 2023 UAE and Dubai prayer time calendar. PrayerTimeDubai.AE is the best website in the UAE, with an automatic and authentic timetable that contains prayer times for Dubai, Sharjah, and Abu Dhabi and all other cities in the UAE.
Muslims are required as one of the Five Pillars of Islam to perform Salat (prayer) five times a day. Islam is the official religion of Dubai and the United Arab Emirates.
How many times do Muslims pray each day?
Salat (or prayers) are performed at the following times every day:
Fajr: dawn prayer
Dhuhr: midday prayer
Asr: late afternoon prayer
Maghrib: sunset prayer
Isha: evening prayer 
Prayer times vary around the world, as they are calculated based on the position of the sun. At each prayer time, there is a set number of "rakat" or "rak'ah", prescribed movements and words must be performed.

Prayer Time Dubai is the official timetable and calendar in the UAE that calculates the exact prayer time in the United Arab Emirates and Dubai.
You can check the prayer time today and daily for the following cities in the UAE: Dubai, Abu Dhabi, Sharjah, Fujairah, Ajman, Al Ain, Ras Al Khaimah and Umm Al Quwain.
The "Call to Prayer"
The prayer times, as detailed above, are made known by a Muezzin (caller), where "Adhan" is recited, usually from loudspeakers in a mosque. You will likely hear the call to prayer from most places in the city.
"Iqamah", the internal call for prayer, is performed 20 minutes after Adhan (25 minutes after Fajr and 5 minutes after Maghrib) to establish that prayers are about to start.
Midday prayers on a Friday ("Jumu'ah") are of particular importance as they are congregational prayers.
Contact Information:
Max Rossi
Marketing Manager
[email protected]
Press Release Service by
Newswire.com
Original Source:
Prayer Time Dubai Releases UAE Calendar for 2023
Lifestyle - RSV News originally published at Lifestyle - RSV News