Colleen Burns, TV Producer and Author of 'MOMARCHY, Why Moms Rule the World' Provides Survival Tips for Busy Moms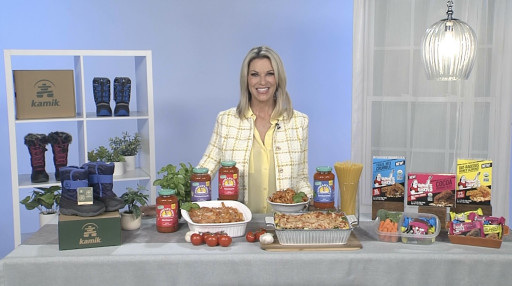 Mom of Six, Colleen Burns, Offers Up Tips for Busy Moms
Author of 'MOMARCHY: Why Moms Rule the World' Dishes Up Tips for Busy Moms
ATLANTA, November 13, 2023 (Newswire.com) - Colleen Burns is a journalist and author, but now she has another demanding job as the mother of six sons. Colleen shares her family survival tips and explains how she transitioned from the news business to 'MOMARCHY!' If fall and back-to-school issues seem exhausting, Colleen offers her unique and interesting views on motherhood.
FUEL FOR BUSY FAMILIES
Keep the family properly fueled to make the most of each day, which starts with nutrition. Dave's Killer Bread ® Organic Snack Bars are great for a wholesome grab-n-go breakfast, lunchboxes, and snack time. Three crave-worthy flavors are power-packed with quality organic, whole grain ingredients, fiber, and the nutrition that is to be expected from Dave's Killer Bread. There are quality organic whole grains, fiber and nutrition you expect. They are Certified USDA Organic, Non-GMO and contain no artificial ingredients, preservatives, colors or flavors. For more information, visit www.daveskillerbread.com
EASY AND DELICIOUS MEALS
Newman's Own is a favorite because their products are high quality, great tasting, and they give away 100% of their profits to help kids. The brand has just reformulated the recipes for their pasta sauces, eight new sauces that are perfect for busy moms. The sauces are made with recognizable ingredients. It is so easy to create delicious home-cooked meals like this Cheesy Baked Ziti. Try the Tomato & Basil, Roasted Garlic and Colleen's personal favorite, Sockarooni. For more information, visit newmansown.com
ESSENTIALS FOR PARENTS
This is a perfect time to check that the kids' jackets and outwear still fit, after laying around for maybe months. A great option is Kamik because they check all the boxes. For 125 years they have designed versatile footwear that keeps families safe, happy, and comfortable year-round. True to its Canadian roots, Kamik is not just a leading footwear brand but one that understands the outdoors and is devoted to sustainability. Their message is there is no such thing as bad weather just bad footwear. For more information, visit www.kamik.com
About TipsOnTV
TipsOnTV covers a variety of topics, including food, entertaining, personal finance, technology, travel, health, lifestyle and more.
Contact Information:
R E
[email protected]
Original Source:
A Mother of Six Sons Shares Survival Tips for Busy Moms on TipsOnTV
The post A Mother of Six Sons Shares Survival Tips for Busy Moms on TipsOnTV first appeared on TREND MAG.
Media - TREND MAG originally published at Media - TREND MAG