Lifestyle and DIY Craft Expert with Tips for Creating Memorable Fall Experiences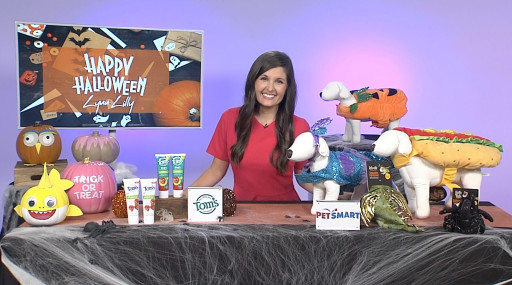 DIY Expert Lynn Lynn Shares Tips for Halloween Fun
Craft Box Girls Creator Lynn Lilly Offers Up Easy DIY Halloween Ideas
ATLANTA, November 13, 2023 (Newswire.com) - Families looking for ways to enjoy the fall season may want to get "crafty" this year! Whether it's carving a pumpkin, decorating the house, or creating tasty recipes, DIY expert Lynn Lilly, creator of Craft Box Girls and a TV DIY craft expert, is available to share ideas for enjoying the fall. Lynn will share timely tips for everything from decorations to carving the coolest pumpkins in the neighborhood.
A FUN PLACE TO START
Include the pets in the fun, and PetSmart has everything you need to celebrate the fall season with pets, including costumes under $20. From classic to spooky costumes, they have all the essentials, like the fan-favorite Pumpkin Costume from the Thrills and Chills brand, available exclusively at PetSmart. There are hot dog and mermaid costumes designed to fit both cats and dogs. They even have costumes for pets like lizards or guinea pigs, like this dragon or scorpion costume. Plus, PetSmart has everyone covered with treats for those four-legged friends. For more information, visit www.petsmart.com.
A AUTUMN ESSENTIAL
With Halloween just weeks ago, it is important to help kids protect their smiles from sugary candy. A great tip is Tom's of Maine's Silly Strawberry Toothpaste. Now with a new look, this toothpaste helps kids maintain their oral hygiene with a natural fruit flavor that they will love to brush with again and again! This fluoride toothpaste for kids uses naturally sourced calcium and silica to gently clean teeth. It has no artificial dyes, flavors, sweeteners, or preservatives, and it is also ADA-approved. Check out Amazon or TomsofMaine.com to grab it today.
About TipsOnTV
TipsOnTV covers a variety of topics, including food, entertaining, personal finance, technology, travel, health, lifestyle and more.
Contact Information:
R E
[email protected]
Original Source:
Founder of Craft Box Girls Lynn Lilly Shares Fall Fun on TipsOnTV
The post Founder of Craft Box Girls Lynn Lilly Shares Fall Fun on TipsOnTV first appeared on RSVTV news.
Lifestyle - RSVTV news originally published at Lifestyle - RSVTV news