SeonJoo Yoon, Founder and CEO of JJAANN Company, explained how the world's first social drinking platform JJAANN can help fight loneliness and social isolation.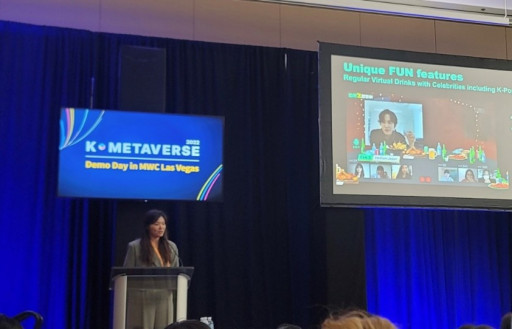 K-metaverse at MWC Las Vegas 2022
CEO SeonJoo Yoon presenting at MWC Las Vegas 2022
SAN JOSE, Calif. - October 14, 2022 - (
Newswire.com
)
JJAANN Company (jjaann.co.kr), a startup founded by a global team educated from Harvard and Stanford, participated in '2022 Mobile World Congress (MWC 2022)' held in Las Vegas from Sept. 28 to 30. JJAANN is the world's first social drinking platform where users can have a virtual fun night out from the comfort of their own homes with friends, family and even celebrities, including K-pop stars. 
JJAANN Company was selected as one of 30 most promising Korean metaverse-related companies by a Korean government agency, NIPA (National IT Industry Promotion Agency) and successfully took its first step towards global expansion by spurring interest from potential global partners and investors.
At the Industry City session that covered "The Future We Aspire to Face Global Challenges with K-Metaverse", SeonJoo Yoon, Founder and CEO of JJAANN Company, was selected as one of five speakers and introduced a case study of JJAANN, followed by a panel discussion moderated by Will Decker from Plug and Play in Silicon Valley. Yoon spoke about "Improving emotional well-being: fighting mental health issues through 'fun' K-Metaverse, JJAANN". She quoted certain survey results that showed over 1 in 3 adults around the world experience some level of loneliness and introduced the positive effect of virtual social drinking, where users can expand their social circle by connecting with family, friends, and celebrities and making new friends with similar interests, which can help improve feelings of loneliness and social isolation. She emphasized that even though feelings of loneliness deepened during the pandemic, the issue certainly existed pre-covid and will continue to exist post-pandemic, and that JJAANN can help solve it, which she called "The next-generation drinking".
Yoon's presentation successfully initiated conversations with various potential partners from the U.S. market, Latin American markets and Asian markets during MWC 2022, which will continue to take place when JJAANN comes to Silicon Valley on Nov. 7-8 for "K-Global @ Silicon Valley" event, which is organized by KOTRA (Korea Trade-Investment Promotion Agency).
* JJAANN guarantees a FUN night out with whomever they hang out with, using unique features such as ice-breaking games, immersive background themes and F&B stickers etc. Another unique feature is virtual drinks with celebrities, including K-pop stars, which attract users from all over the world. Since its beta product launch, JJAANN has gained 25K users from 47 countries within six months and aims to start expanding to global markets. JJAANN currently takes the form of a video chat platform but aims to upgrade to a more three-dimensional metaverse.
Contact Information:
Sam Park
COO and PR director
[email protected]
617-945-3065
Press Release Service by
Newswire.com
Original Source:
'Fighting Mental Health Issues Through Fun Korean Metaverse' Presented at 'MWC Las Vegas 2022'
Media - Trend Magazine originally published at Media - Trend Magazine