AquaTru Carafe packs powerful proprietary four-stage water purification into a compact countertop footprint with a thoughtfully designed glass carafe.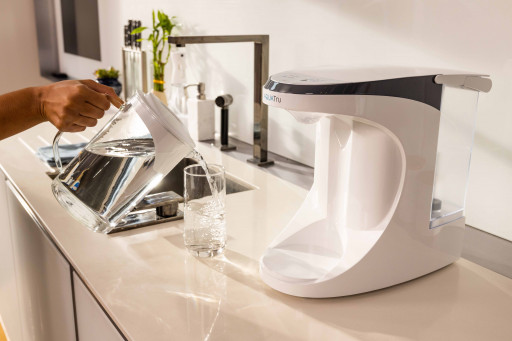 Introducing AquaTru Carafe
AquaTru Carafe is a Compact Reverse Osmosis water purifier, that will fit in any kitchen and features a glass pitcher.
LOS ANGELES - October 7, 2022 - (
Newswire.com
)
AquaTru, the water purification company that revolutionized at-home water purification, today announced AquaTru Carafe, their newest countertop reverse osmosis water purifier designed for individuals and smaller households. Designed with a smaller countertop footprint and an elegant half-gallon glass carafe for easy pouring and storage in the fridge, AquaTru Carafe also leverages AquaTru's proprietary and installation-free 4-Stage Ultra Reverse OsmosisⓇ purification technology, which is proven to remove dozens of the most harmful contaminants from tap water.
According to research conducted by the Environmental Working Group, over 270 harmful contaminants were found in U.S. drinking water across all 50 states that exceed safe health guidelines, including lead, the 'forever chemicals' known as PFAS, arsenic, nitrate and so many more. One of the gold standards in water filtration that significantly reduces many of these dangerous contaminants is reverse osmosis filtration, which removes contaminants by pushing them through ultrafine filters that remove particles larger than water molecules. In 2016, AquaTru invented the world's first installation-free, four-stage countertop reverse osmosis (RO) purifier that is independently tested to NSF standards to remove over 80 of the most harmful contaminants found in tap water. AquaTru's countertop RO purifiers use a four-stage purification process to remove the widest range of pollutants, and its no-installation countertop design made this advanced water filtration technology more accessible to more consumers than ever.
AquaTru Carafe combines many current AquaTru classic countertop features with new technologies to deliver a water purification solution that will fit the needs of even more consumers and households. Key features and benefits include:
Glass Carafe: Made from durable and strong borosilicate glass, users can pour water with ease or store in the fridge for chilled water on hand. 
Compact and Portable: With a compact footprint, AquaTru can sit easily on any counter or under any standard kitchen cabinet. With no installation or plumbing required, AquaTru Carafe is a great option for renters, campers and travelers alike.
Patented 4-Stage Ultra Reverse OsmosisⓇ purification technology: Stage one contains the mechanical Pre-Filter, which removes sediment and cloudiness (turbidity) from water. In stage two, the activated Carbon Pre-Filter removes chlorine and chloramines. Stage three utilizes AquaTru's high-efficient Reverse Osmosis Filter, removing toxic inorganic contaminants including arsenic, fluoride and nitrate. Lastly, in stage four, the activated coconut shell Carbon VOC Filter removes toxic organic chemicals like PFOS and PFOA and polishes the water to ensure great taste.
Sustainable Cost-Savings: One set of AquaTru Carafe filters replaces 2,200 single-use plastic water bottles. By not buying bottled water and creating purified water at home, customers not only reduce single-use plastic waste in the environment, but AquaTru's long-lasting filters also add up to significant savings over the life of the product.
"AquaTru Carafe is the result of five years of research and development, customer feedback, and rigorous testing. We're proud that it's another step forward for AquaTru in the water purification space to provide even more households and families access to advanced water purification technology than ever before," said Peter Spiegel, inventor and co-CEO of AquaTru. "Unfortunately, drinking standards and regulations are extremely out of date, so the responsibility is put on individuals to ensure the safety of the water in their home is safe for them and their families to drink. AquaTru Carafe was designed to make it even easier for individuals or smaller households to transform their tap water into pure, deliciously healthy water they can trust." 
As a science-based company, AquaTru conducts extensive independent testing of its products. AquaTru purifiers are independently tested by IAPMO to NSF standards to prove efficacy for the full life of its filters.
AquaTru Carafe is available nationwide through AquaTruWater.com and retails for $349.
ABOUT IDEAL LIVING AND AQUATRU
Ideal Living is a Los Angeles-based company that invents, markets and distributes innovative health, wellness and home environment products to significantly improve the quality of life of individuals and communities. AquaTru is one of the leading brands of Ideal Living and is on a mission to ensure that everyone, everywhere has access to clean, safe drinking water. AquaTru, which was launched in 2016, created the first and only countertop reverse osmosis water purifier certified to NSF standards to remove more than 80 harmful contaminants. 
For more info, visit https://www.aquatruwater.com or join our community on Facebook, Instagram, or TikTok.
Contact Information:
Helen Christoni
Vice President, Business Development & Partnerships
[email protected]
(323) 206-1121
Press Release Service by
Newswire.com
Original Source:
AquaTru Launches AquaTru Carafe, a Revolutionary Countertop Water Purifier Designed With a Glass Pitcher and Smaller Footprint
Lifestyle - RSV News originally published at Lifestyle - RSV News